Hi!
I'm currently working on a new portfolio, that will showcase my

graphic

,

motion

&

AR

projects.
While I'm creating a grid, picking colors, and combining fonts, you may check how I started

my motion design journey;

how I won

my first award

six months later at ADC*UA Awards 2020;


Comments and elements outside the dotted frame are not visible in published projects when Scale Layout is on.
Navigation links in this project form a group.
You can group widgets with the following shortcuts:

Cmd+G on Mac
Ctrl+G on Win

To ungroup widgets, press
Cmd-Shift-G on Mac
Ctrl-Shift-G on Win

You can edit any text block in this project. Before editing, make sure that auto-size is switched on so that the bounding box will automatically adjust to all changes.
Use the arrow keys ← → to navigate between template pages.

Each text block is automatically assigned a text style. You can redefine text styles to apply properties to multiple text blocks at once.


When a widget is selected, this icon indicates that it is animated.
Double-clicking the image will enable the crop tool. You can crop your images directly within Readymag.

Link pictures to other pages in the project using the link button.

This panel (lower left) allows you to rename, reorder, group, lock or hide widgets.
Turn the grid on/off in the Grids & Guides menu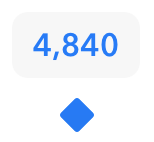 Drag the blue diamond at the bottom of the page up and down to adjust height.

Back to top is an anchor link.